Bournemouth balloon 'closed for summer' after damage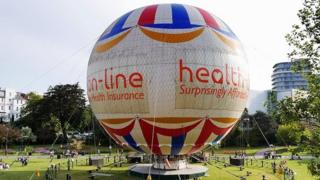 Bournemouth's landmark balloon is damaged and unlikely to return for the rest of the summer, the council has said.
The tethered balloon which flies 150m (492ft) above the town's Lower Gardens was removed for repairs in June.
Bournemouth Borough Council said it was investigating whether the extent of the damage meant a replacement was needed.
When asked about the problem, operator S&D Leisure's managing director Stanley Reeves replied: "No comment."
A council spokeswoman said: "At present the balloon is damaged and we are trying to establish the extent of this. This may include looking at options for a new balloon.
"As things stand it is unlikely that the balloon will be ready to fly again this summer."
Neither the council nor S&D Leisure revealed the nature of the damage or what had caused it.
S&D's balloon website says the attraction is "currently grounded due to changing weather conditions".
Bournemouth Balloon
The balloon is 22m (72ft) wide, 33m (108ft) high, with a circumference of 69m (226ft)
It flies at 150m (492ft) and is usually moored at 33m (108ft)
It carries up to 28 passengers
The envelope - the large spherical balloon - takes 5,575 cubic metres of inert helium gas
The eight-sided steel gondola gives passengers a 360-degree view of Bournemouth
The balloon was inspected and certified as an aircraft by the Civil Aviation Authority in 2008