Yellow Buses route reinstated after vandal attacks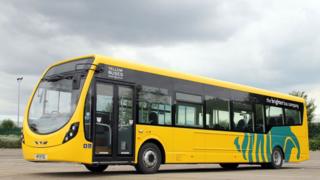 A bus service in Dorset that was re-routed because of repeated vandal attacks is to be reinstated.
Attacks on the Yellow Buses 1A service in Somerford, Christchurch, included one incident where a brick was thrown through the window.
Buses have been diverted since the attack on 14 June.
The bus company said matters had now been "resolved to its satisfaction" and daytime and evening services on Somerford Road will resume on Monday.
Managing director Andrew Smith said: "Withdrawing services is the absolute last resort but we were not prepared to put the lives of our customers and our staff at risk.
"We are satisfied that our concerns have now been addressed by the relevant authorities and that our 1A service can now resume its usual route."
In April, the company temporarily suspended some services after four separate incidents.
Services resumed the following month but two further attacks followed, including the brick incident, which happened at the junction of Somerford Road and Dennistoun Avenue.