First Dorset bus firm 'docks sick pay' during strike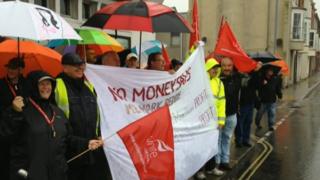 Bus drivers with cancer or serious heart conditions could have their sick pay docked during a walkout by colleagues, a union has claimed.
More than 110 bus drivers in Dorset are staging five weeks of strikes over pay.
The Unite union claims First Dorset threatened to stop sick pay to staff who had been signed off work.
The bus company said sick pay was still being paid to people who were at home and not actively taking part in the strike by standing on picket lines.
'Life-threatening conditions'
Union regional officer Bob Lanning said the move "flouted every canon of humanity and common decency".
He said: "These are very serious life-threatening conditions - we are not talking about the odd day off for the common cold."
A First Dorset spokeswoman said: "We wrote to employees to remind them of company policy with regard to the current industrial action.
"This letter reminds staff that those who are off work due to illness are entitled to either company sick pay, or statutory sick pay.
"However, sick pay is not paid where staff are actively taking industrial action instead of recuperating from their illness."
The spokeswoman added that staff needed to confirm in writing that they were not taking part in the strike.