Bournemouth flats designs 'bland' with 'no charm'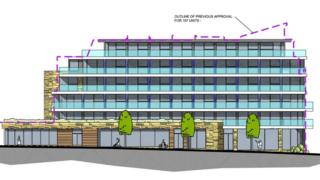 Plans to develop the site of a former church near Bournemouth's seafront have been branded "bland" with "no charm".
Developers have submitted a fourth application to develop the site of Punshon Memorial Church in Exeter Road.
The latest plans are for 97 apartments, two commercial units and 15 parking spaces on the empty plot next to the Royal Exeter Hotel.
Architects ARC said developer The Mast was committed to delivering a "high quality development".
Borough councillor David Smith said: "The first house in Bournemouth - the Exeter Hotel - is of great historical interest and I think it's very important that whatever we have in the setting of that building is sympathetic to it and a top quality design.
"If it's just another bland block that we're going to have - I don't think that's good enough."
Bournemouth Civic Society environment consultant John Soane said: "It just does nothing, frankly, for the area... it has no charm whatsoever."
ARC said, of the three previous applications for the site, two had gained approval but the developers had been unhappy with the designs which had been drawn up for the previous owner.
Its latest application was refused.
Director Bradley Cheer said the last scheme to be approved had tried to reflect the character of the former church but was "over complicated".
The latest application, he said, was an "exciting fresh design" with a "subtle Art Deco influence" with the number of flats cut from 107 to 97.