Ex-lover guilty of Blandford hairdresser murder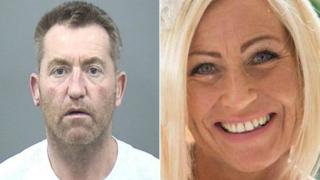 The former lover of a hairdresser stabbed at her salon has been found guilty of her murder.
Katrina O'Hara, 44, died from two stab wounds to the chest at Jocks Barbers in Blandford Forum in Dorset on 7 January.
Stuart Thomas, 49, denied murdering Ms O'Hara with a large kitchen knife, days after he had been arrested for harassing her.
He was convicted of her murder following a trial at Winchester Crown Court.
'Abusive and controlling'
The court heard the self-employed builder and married father of four had "lain in wait" for Ms O'Hara and attacked her as she went for a cigarette at the end of her working day.
Thomas, of Salisbury Road in Blandford, also cut his wrists with the same knife.
The pair became romantically involved in May 2015 but by the autumn Ms O'Hara attempted to end the relationship because she did not want to have an affair with a married man, the court was told.
Ms O'Hara had reported Thomas to police just before New Year's Eve after he repeatedly confronted her and sent her "many messages" pleading for her to take him back.
After the killer was convicted, Det Insp Richard Dixey said: "[He] was an abusive and controlling man who would not accept that his relationship with Katrina O'Hara was over.
"He sought to use harassment, violence, threats and emotional blackmail to control her behaviour, ultimately leading to her being stabbed to death."
Prosecuting barrister Nigel Lickley QC described Thomas as having a "volatile" relationship with Ms O'Hara, with her trying to leave him several times. Each time he persuaded her to come back by promising to leave his wife or by threatening to harm himself.
Thomas will be sentenced at Winchester Crown Court next month.