Dorset County Council senior officers win pay rises of up to £17k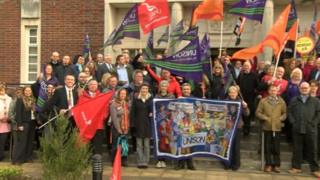 A local authority has voted in favour of a new pay structure, increasing the salary of its 15 senior officers by as much as £17,000.
The pay band for a head of service at Dorset County Council will rise from £63,348-£79,714 to £80,500-£91,000.
The authority said the improved package for officers, whose roles had become "much wider in scope", would cost about £60,000 in the coming year.
The Unite union said it was "disgusted" by the council's "rank hypocrisy".
It said the decision had come at a time when other staff had been awarded a 1% rise.
Unite regional officer Bob Lanning said: "As usual, there is one law for the bosses and another one for everyone else.
"Surely all of the money allocated to the pay rises for the top managers ought to be spent on public services."
'Hate mail'
Council leader Robert Gould said: "Today's decision means that this group of staff will have been properly evaluated with terms and conditions that reflect the roles that they do.
"We value all our staff and recognise the tremendous job they do but our procedures need to be fair across the board.
"This is not about rewarding our senior staff, it is about paying them at the right level for the job that they are doing."
Branch convenor of the GMB union Sarah Pattison said staff morale was at an "all-time low".
She said: "I know the council has made allegations that somebody sent hate mail to one of the director's homes. We would never condone that but at the same time it does say a great deal about the attitude of the staff."
Dorset County Council said about £675,000 had been saved over the past six years through "reductions in head of service costs", including cutting the number of senior officers from 31 to 15.