Ex-firefighter's sex attack conviction quashed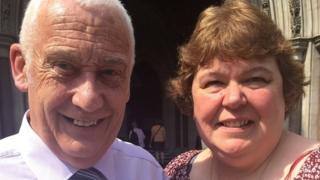 A former firefighter jailed after his alleged sex attack victim came forward in the wake of the Jimmy Savile scandal has had his conviction quashed.
David Bryant, 66, of Christchurch, Dorset, was jailed in 2014 for six years for the offence against a 14-year-old boy in the 1970s.
Judges at London's Court of Appeal have now overturned the conviction.
They described it as "unsafe" in light of new evidence relating to the credibility of the alleged victim.
The prosecution told the three judges - Sir Brian Leveson, Mr Justice Singh and Mr Justice Holgate - it was not resisting Mr Bryant's appeal and not seeking a retrial.
Mr Bryant, who was found guilty of a serious sexual assault in December 2013, was originally jailed for six years in January 2014.
His sentence was later increased to eight-and-a-half years after appeal judges ruled the original term imposed at Bournemouth Crown Court was "unduly lenient".
'Chronic liar'
Mr Bryant, who was 26 at the time of the alleged offence, was accused of carrying out the attack with another man.
A previous Court of Appeal hearing was told the alleged victim did not file a report until 2012 "after being motivated to come forward in the aftermath of the Jimmy Savile affair".
Mr Justice Singh said fresh material included information that "over a period from 2000 to 2010 the complainant in this case had to seek medical attention from his GP in relation to what can only be described as his being a chronic liar".
He said the fresh evidence "was such that a jury might reasonably have declined to convict".