Man pollutes stream with waste oils near Sherborne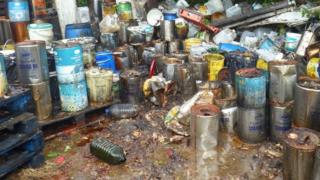 A man polluted a stream and nearby properties with waste oil after running an illegal collection site at his home, the Environment Agency has said.
About 60,000 litres of cooking oil and food products were found at Stuart Allen's home near Sherborne in Dorset it added.
Some of the materials were contaminated with plastics, wood and human wastes.
Allen, of Keepers Paddock, Middlemarsh, was handed a suspended jail sentence after pleading guilty to the offence.
The Environment Agency said it was first alerted to the issues in November 2014 after neighbours started finding cooking oil in their drains and a nearby pond.
Oils were also found on the A352 road, as well as in Caundle Brook.
The Environment Agency said 49-year-old Allen threatened two of his neighbours with violence when they complained.
No attempt was made to contain or safely store the oils and "spillages simply soaked into bare earth", the agency added.
Allen, who collected about three tonnes of waste oils a week from catering businesses across Dorset, South Somerset and East Devon, received four months imprisonment, suspended for 18 months at Taunton Crown Court.
He was also ordered to carry out 200 hours of unpaid work, pay costs of £20,000 and given a restraining order for 10 years, relating to his neighbours.
He previously pleaded guilty to keeping controlled special waste in a manner likely to cause pollution or harm to human health at Yeovil Magistrates' Court.