First Dorset bus strike action is 'last resort'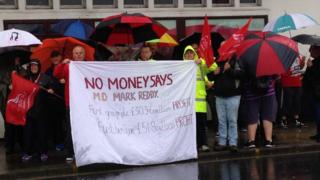 The latest strike action by bus drivers in Dorset is a "last resort", a union has said.
More than 110 Weymouth and Bridport drivers have walked out claiming "poor relations" over a pay dispute which has entered its fifth week.
But the Unite union said a sixth week of action was also planned.
First Dorset said it was operating about 90% of its normal services and running an emergency timetable during the dispute.
Both the firm and union have said the strike is affecting the economy, and both parties have claimed they have invited the other to join them at formal arbitration with conciliation service Acas as a means of resolving the dispute.
Unite regional officer Bob Lanning said: "The latest offer produced no improvement, just the same 2.3% over two years that has been on the table for the last eight months.
"This is not acceptable given that our drivers in Weymouth and Bridport are the lowest paid in First Group across the whole of England.
"These latest rounds of industrial action are a last resort against a stubborn company intent on not paying a reasonable rate for the job," he said.
He has previously said Weymouth and Bridport drivers earn £8.80 an hour, while drivers in Yeovil, Somerset, are on £9.50 an hour, and those at rival firms in Bournemouth and Poole earn almost £2 an hour more.
Marc Reddy, managing director at First Dorset, said the firm was "frustrated" by the continuing action and apologised to affected customers.
"Our resolve is strong though and we are continuing to add more and more journeys to the strike day timetables," he said.
"The latest move sees us add in a number of key, early morning commuter journeys, and the equivalent evening journeys at the opposite end of the day."
The first round of strike action began on 20 June, with the current round due to end at 04:29 BST on 1 August.
Mr Lanning said striking drivers were losing "hundreds of pounds" in pay because of the dispute, which illustrated the "depth of anger" they felt.
He added they were receiving financial support from Unite, as well as donations from members of the public during the on-going action.