Weymouth's Castle Cove Beach: Charity to re-establish access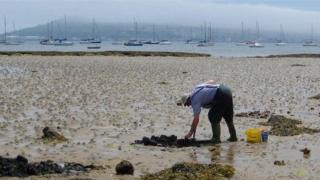 A charity has been formed to re-establish access to a popular beach in Weymouth on Dorset's Jurassic Coast.
In 2013 Castle Cove closed indefinitely after access steps, on private land, were damaged in a landslip.
The campaign group Friends of Castle Cove Beach have been waiting since 2014 for Dorset County Council to determine a right-of-way application.
The group, now a charity, says it no longer needs to wait because it can lease the land needed for access.
The 15m (49ft) sloping footpath was closed after large cracks appeared and the section of steps at the bottom was taken away by Weymouth and Portland Borough Council.
Lottery funding
Campaigners had been locked in legal discussions with the council over issues of liability and safety following the landslip.
But the charity's new status means it can now deal directly with the landowner who, it said, was willing to lease the land for a peppercorn rent, meaning it could build and maintain new access steps.
Chairman of the newly-formed charity, Steve Elsworth, said: "We had got as far as we could as a campaigning organisation, but now we need to lease land and arrange access to the beach. We can only do this if we are a charity.
"Local landowners and both Weymouth and Portland Borough Council and Dorset County Council are being really helpful."
He said: "Now that we are a properly-constituted charity, we can take out leases, build access and apply for larger grants from funding organisations like the Lottery."