'False scorpion' species recorded in UK for first time in 80 years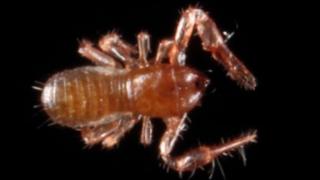 A species of "false scorpion" has been recorded in the UK for the first time in more than 80 years, according to conservationists.
The Kewochthonius halberti species of pseudoscorpion - a type of arachnid - was discovered at Kimmerige Bay, Dorset, by naturalist and wildlife photographer Steve Trewhella.
Conservation trust Buglife said the species was last recorded in the UK in Devon in the late 1920s.
It had never been recorded in Dorset.
'Microscopic universe'
Mr Trewhella said he discovered the 1.5mm-long (0.05 inch) bug under a "big boulder" on the coastline.
"They live a completely undisturbed and a very secretive life - they don't relocate - so that boulder and everything that's under it is their own microscopic universe," he added.
Andrew Whitehouse, of Buglife, said: "It's always exciting to find a new species in a county - particularly when it's been such a long time since it was last seen in the UK - as it reminds us how much more there is to discover."
Pseudo-scorpions look like scorpions but without the stinging tail.