Chideock Clockhouse Inn: Fire-hit thatched pub to reopen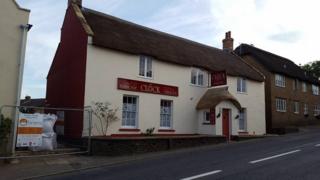 A thatched pub gutted by fire is set to reopen after being rebuilt by the owners.
The Grade II-listed 16th Century Clockhouse Inn in Chideock, Dorset, was damaged in the blaze in April 2015.
Owner Mike Long feared he would have to sell the site after his insurer said it would only cover £300,000 of the £520,000 rebuild costs.
But with a £150,000 bank loan and a £70,000 fundraising drive the family will reopen the pub on 15 July.
Mr Long, who lives in the pub with his wife Helen and two children, said: "It's been a tremendous effort and the last two weeks have been very stressful now we're getting to the end.
"Everybody is chomping on the bit to have their local back, it's great to know they are all so keen to get down here.
"How we've got here it doesn't seem real. It was only when the bank loan came good and the village rallied round that we thought this is going to happen.
"It's going to be like waking up from a bad dream when we open the doors next week."
The pub has been redesigned inside with a shortened bar while the building's structure has been retained due to its listed status.