Protestors win battle against new homes near Weymouth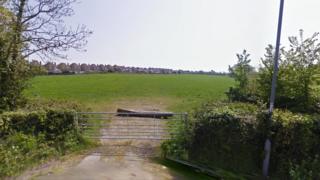 Villagers have won a battle against plans to build up to 340 new homes on farmland which separates their hamlet from Weymouth.
Borough councillors narrowly refused to give outline permission for the development, against the advice of their own planning officers.
They cited concerns over increased traffic and a risk of flooding.
Villagers had warned that Nottington would have "lost its identity" if the homes were built.
Residents had warned of dangers from increased traffic in Nottington Lane, following the death of an elderly pedestrian who was hit by a car in 2002.
Eighty-one-year-old Ernie Rowe said he often had to walk around a "dangerous double bend" while another villager, John Laffineur, claimed there were near misses daily.
Terry Gant told BBC Radio Solent: "The traffic is horrendous. On a Friday night in summer when the caravans are out there is blockage after blockage in the lane, people arguing and shouting.
"I've had a car written off there, wing mirrors missing, it's just a recipe for disaster."
Local councillor Pamela Nixon said there had been ten cases of flooding over the last eight years and the new homes would have led to increased water run-off from the farmland.
But Dorset County Council, the flood authority, said plans were being developed to deal with surface water.
Developer CG Fry and Son Ltd had promised a new footpath and traffic-calming measures to manage an "inevitable" increase in traffic.
Director David Lohfink said the company would decide over the next few weeks whether to appeal against the vote by Weymouth and Portland Borough Council's planning committee.
He said six councillors voted against the plan, with four in favour and three abstentions.
The firm has recently applied to build around 300 homes at Bank and Ridge Farms at Chickerell, two miles away.