Drovers Inn: Gussage All Saints' villagers reopen pub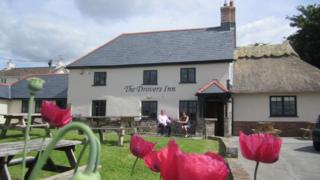 A village pub in Dorset that was bought by campaigners to prevent it being turned into homes has reopened.
The Drovers Inn in Gussage All Saints, near Cranborne, shut in November 2014 and was later sold but the buyer's plan to turn it into homes was refused.
Villagers, who set up a community benefit society to buy the pub, took possession of the keys in March.
The pub's new landlords Stephen and Barbara Aldred say they have been amazed by the villagers' determination.
Mr Aldred said, after learning the pub was going to be developed, villagers had organised themselves into a "formidable group".
The Gussage Community Benefit Society raised money for a mortgage through a community share offer.
About 170 people have so far bought shares in the business with others giving their time and expertise to renovate the building.
Mr Aldred, who previously ran a pub with his wife near Sturminster Newton, said: "At the other tenancy, we were in a very nice village and with good supporters, but this surpasses all of that."