Death crash drug driver Natalie Roach jailed over A35 smash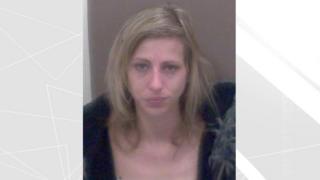 A drug driver who got behind the wheel after taking cannabis, heroin and cocaine has been jailed for causing the death of another woman in a crash.
Natalie Roach, 30, ploughed a Peugeot 206 into a Toyota Prius carrying Stella Osborn, 59, in a head-on collision in Dorset in March.
Mrs Osborn, who was a passenger in the car, died at the scene, while her husband was injured.
Roach was jailed for six years at a hearing at Dorchester Crown Court.
'Unnecessary death'
Police said tests on Roach's blood found 509 nanograms of Benzoylecgonine - one of the main metabolites in cocaine - per litre of blood.
The legal limit is 50 nanograms.
Tests also revealed 3.1 nanograms of tetrahydrocannabinol (THC) - the principle constituent of cannabis - in her blood. The limit is 2 nanograms.
Roach crossed onto the wrong side of the A35 at Monkton Wyld, near Charmouth, and hit the Osborns' car.
She was not the owner of the car, was not insured to drive and had an expired driving licence, police said.
She pleaded guilty to causing death by careless driving over the prescribed limit and driving an unlicensed vehicle.
Sgt Joe Pardey, of Dorset Police's Road Traffic Unit, said: "A family has lost a wife, mother, grandmother and friend and the effects of this collision will never go away.
"The death of Mrs Osborn was unnecessary and avoidable."