Dorchester road turning ban as traffic scheme approved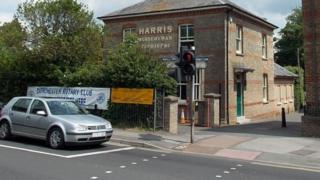 Motorists have been warned to expect disruption after the first part of a £5m traffic scheme was approved for Dorchester.
Dorset County Council's cabinet agreed to ban some right and left turns at Great Western Cross in a bid to improve pedestrian safety and cut delays.
Work is due start in January and will take about 13 weeks to complete.
The council said temporary traffic lights would be in place during that time.
The work, which is expected to cost about £450,000, will prohibit left turns from Damers Road to Cornwall Road and Dorchester West Station to Damers Road.
Right turns will also be banned from Great Western Road to Cornwall Road, Damers Road to Victoria Road and Maumbury Road to Great Western Road.
Paul Hannam, project team manager of the scheme, said the work would cause "quite some disruption" but "by banning these turns pedestrians will be able to cross while the traffic continues to flow" .
Original proposals for the full £5m scheme, which was first mooted in 2003, included High West Street and part of Prince's Street being made one way.
However, this was scrapped after a public consultation in 2013 raised concerns over traffic being transferred onto residential streets.
The current proposals include pedestrianising the southern section of South Street in the town centre and upgrading pedestrian crossings at South Gate.