Dorset mobile library cuts finalized by county cabinet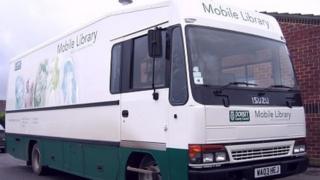 Three out of four of Dorset's mobile library vehicles are to be taken off the road following a council vote.
The plan, approved by the council cabinet, is aimed at saving around £126,000 over two years, as well as the cost of replacing vehicles.
One of the county's four mobile libraries will be retained to serve care homes and sheltered accommodation.
The county council said people who were housebound would be able to have books delivered to their homes by volunteers.
A contract with the Royal Voluntary Service, which is already providing home deliveries, is due to be extended.
The council insisted older people who used the mobile libraries because of loneliness would be helped through befriending schemes.
Deborah Croney, Dorset County Council cabinet member for learning and skills, said: "These changes will help us focus provision of the mobile library service on people of all ages who cannot get to a library building."
Earlier this year, a third of mobile library users who responded to a council survey initially said they would no longer be able to borrow books if the service was withdrawn.
The three vehicles will stop running on a date yet to be fixed, some time between December and the end of March.
In April, Dorset County Council voted to scrap the library service which provides books and training to schools.
In March a BBC investigation found that 132 mobile libraries had been axed across the UK over a six-year period.