Dorset Police marine patrols stepped up over migrant concerns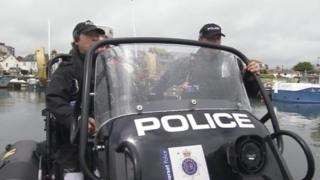 Police patrols along the Dorset coast are being stepped up, following concerns over migrants crossing the English Channel by boat.
The county's police and crime commissioner said cuts in border controls had left the area "really vulnerable" to people smugglers.
Martyn Underhill said an extra officer would be funded to allow additional speedboat patrols.
The government has insisted maritime security is being bolstered.
In recent weeks Border Force teams have intercepted a number of migrants trying to cross the English Channel by boat.
Two men appeared in court after a boat carrying 20 people was rescued off the Kent coast.
Seventeen men, thought to be Albanian migrants, were detained after a catamaran arrived at Chichester Marina in West Sussex.
Mr Underhill said it showed mounting evidence of migrants willing to risk the dangerous Channel crossing, targeting areas further west.
'Really worried'
"We know that there are 1.8 million refugees in Europe. And if we've got these people coming in and we don't know about them, that puts our nation's security on the line, and I'm really worried about that.
"There used to be customs boats in every port, now we have none."
Dorset Police's two-person marine unit patrols a 90-mile (145km) stretch of coast for signs of people smuggling, with the power to board vessels 12 miles (20km) out to sea.
Con Lyn Parsons said: "The fact that they've not been caught doesn't mean that they're not here, and doesn't mean that it hasn't happened."
Immigration Minister James Brokenshire said new powers, co-ordination hubs and patrol vessels were being introduced.
"Our investments and improvements over the past six years have left us with one of the most secure borders in the world. But we know we must go further and continue to adapt and react to the challenges we face."