Driver banned over pensioner death in Lytchett Matravers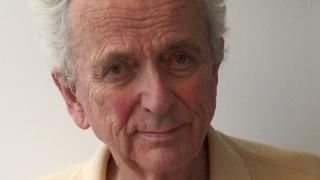 An 85-year-old man has been given a community sentence and a two-year driving ban for killing another pensioner in a crash in Dorset.
Michael James admitted causing the death of Peter Brett, 91, by careless driving in Lytchett Matravers.
Mr Brett was driving in September, when his car was hit from the side by a Ford Transit van.
The community sentence requires James, of Bell Street, Swanage, to keep in touch with the probation service.
At a previous hearing, Bournemouth magistrates were told James was in the wrong lane, failed to stop at a give-way sign and careered into the side of Mr Brett's Mercedes at about 25mph.
The court was shown a video of the crash recorded by Mr Brett's dashboard camera.
Mr Brett died of his injuries the following day, 19 September.
A family statement described the grandfather, from Lytchett Matravers, as a keen sailor who also set up the first Cellophane factory in Canada.
Mr Brett, who had served in the navy, was married to his wife, Rosemary Brett OBE, for 67 years, his family said.
His niece is West Midlands MEP Anthea McIntyre.