Upton campaigners fight to save gardens over town square plans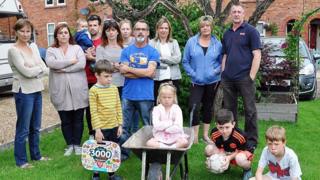 Campaigners in a Dorset village say they are fighting to save their front gardens from being bought by the town council as it plans to turn the land into a town square.
Lytchett Minster and Upton Town Council is currently consulting residents on the proposals for Poole Road.
The scheme would mean the council would have to buy some private land - but some residents are refusing to sell.
The council said its plan would protect the area from house-building projects.
'Need to protect it'
Some of the 10 former allotment plots are owned by residents, others are council-owned and rented to residents and some are owned by a developer.
Town councillor Ron Burns said the land was currently designated as "important open area" in the Purbeck local plan, adding: "The council is totally opposed to having houses and flats on the area and we need to protect it."
However, he said Purbeck District Council, which has not yet commented on the plans, had said it would remove the land from the plan if the town council did not own the majority of the plots by the end of the year, which he said the town council feared would leave the area open to development.
Poole Road resident and landowner Wendy Lucas said there was "no way" she would sell her plot to make way for the square, which she believes would attract anti-social behaviour and litter.
"The only way they'll be able to get my land is if they try to rob me through the courts through a compulsory purchase," she added.
Geoff Cooper, who owns another plot, argued there was already a recreation ground in the area, as well as Upton Country Park and Upton Heath.
"Nothing will be done without the agreement of the residents of Lytchett Minster and Upton," said Mr Burns.