Wool new homes plan 'would double village'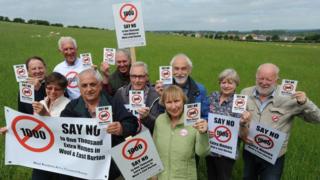 Campaigners have said a Dorset village would almost double in size if 1,000 new homes are built.
Purbeck District Council is proposing the new homes in Wool as part of its local housing plan which would see more than 3,000 built across Purbeck.
Residents said the plans would put pressure on infrastructure including schools and transport.
The council said 4,000 new jobs would be created in the area over the next 17 years and homes would be needed.
Four years ago a government inspector said the local plan had not fully explored housing growth potential in the area.
A review has now proposed building 3,195 homes across Purbeck over the next 15-17 years, in addition to 1,700 already planned.
More than 300 residents and local councillors attended a public meeting on the plans on Tuesday evening.
Andrew Wilson, from campaign group Woolrath, said the new homes proposed for Wool were "not needed".
"Wool currently has just over 1,400 houses - put another 1,000 in and you've added to the size of Wool by 72%," he added.
District councillor for Wool Laura Miller said the authority would wait for the results of a public consultation before further decisions are made.
She said Wool was "one of the least constrained areas in Purbeck" and said the council was "also governed by what land is available to build on".
A consultation on the local plan begins on Thursday and runs until 12 August.