Gussage All Saints' Drovers Inn owned by villagers to reopen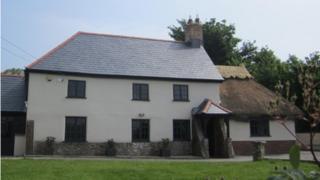 A village pub in Dorset that was bought by campaigners to prevent it being turned into homes is set to reopen.
The Drovers Inn in Gussage All Saints, near Cranborne, closed in November 2014 and was later sold but the buyer's plan to turn it into homes was refused.
Villagers, who set up a community benefit society, fought to get the pub listed as a community asset and took possession of the keys in March.
They say they hope the pub will reopen its doors by the end of the month.
The Gussage Community Benefit Society, which raised money for a mortgage through a community share offer, said new leaseholders had been confirmed and were in the process of hiring kitchen staff.
Society secretary Sally Marlow said the newly installed thatch would be complete next week "complete with a brace of pheasants as a very special finishing touch".
"Things are progressing really well and we are hoping for the opening towards the end of June," she added.