Pop-up pub garden opens on closed A30 in Sherborne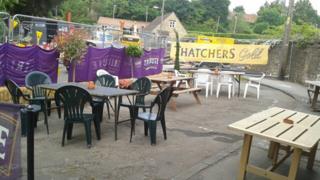 A publican affected by roadworks on a major route through Dorset has gone ahead with a plan to use the closed carriageway as a "pop-up pub garden".
A stretch of the A30 in Sherborne has been closed amid fears it could become unstable and collapse.
Ian Blackmore, owner of the Crown Inn, said putting tables and chairs on the road has proved "absolutely wonderful".
The county council said it was "working closely" with Mr Blackmore and had provided some fencing for the garden.
The authority previously said it could not support the idea because workmen would need access to the road.
Mr Blackmore said his and other businesses had been badly hit since temporary traffic lights were put in place on the main road between Shaftesbury and Yeovil in Somerset, at the start of May.
He said he wanted to make a "popular feature" of the space which had become available to help his business which had seen a reduction in passing trade.
A 15m by 6m (50ft by 20ft) area of road directly outside the pub has been cordoned off with barriers and hay bales, providing seating for 30 customers.
"Business took a big nose dive for two weeks but we're fighting back and hope to keep business up," he said.
After drainage works began on the A30 Newell, at the junction with the B3148 Marston Road, workmen found the roof of a culvert was at risk of collapse, meaning the road closure was put in place for longer than originally planned.
The council said it was bringing in extra resources to ensure the work was finished by 24 June.