Bournemouth council criticised for buying one-way tickets for rough sleepers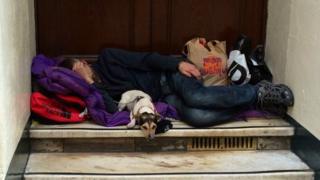 A council's move to give rough sleepers one-way train tickets to move them on "will only push the problem to somebody else's door", a charity has said.
Bournemouth council has spent about £500 on tickets for nine people in the past two months.
Claire Matthews, who runs Hope for Food, said money could be better spent on getting people back into society.
The authority said it was only a small part of a new £200,000 strategy using "assertive techniques and procedures".
Ms Matthews, whose group of volunteers helps rough sleepers in the town, said: "It's an attitude of 'it's not my problem, let's shoot them off somewhere else'.
"Why are they trying to push everybody out? It will only push the problem to somebody else's door.
"Why don't they use that money in other ways to try and help these people back into society? [The council] has got to work with them not against them."
The authority said it had allocated an extra £200,000, covering the cost of two additional full-time staff to find solutions for rough sleepers, including helping some to return to their home areas.
Councillor Robert Lawton, member for housing, admitted there was a chance people they gave tickets to may come back, saying this was "something we'll have to live with".
Lorraine Mealings, head of housing at Bournemouth Borough Council, said: "The rough sleeper team liaise with every single person who's out there and people from out of the area are actively re-engaged with the area they come from."
The council also faced criticism in December for playing loud music including bagpipes and Alvin and the Chipmunks at its travel interchange to deter rough sleepers.