'Inadequate' Bournemouth care home's reprieve welcomed by families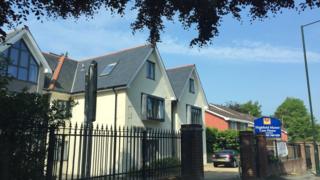 A Dorset care home threatened with closure after it was rated inadequate for a third time in a row, has been given a temporary reprieve, according to the families of residents.
The Care Quality Commission (CQC) had been on the verge of closing Highfield Manor Care Home in Bournemouth.
Residents' families who attended Poole Magistrates' Court on Tuesday, said the CQC had granted a six-month extension.
The home has been in special measures since July 2015.
It specialises in providing care for those suffering from Alzheimer's and Dementia and is home to about 20 residents.
In a statement, the home said the six months would allow "time to continue making improvements to the home".
Highfield Manor's manager, Charlie Jones added: "Our priority remains the health and wellbeing of our residents and we are grateful to them and their relatives who supported us so spiritedly through this challenging time."
'Extremely relieved'
Richard Collins, whose father is cared for at the home, said: "The families are delighted and extremely relieved that the tribunal officials took a pragmatic view of the situation.
"We are fighting hard to ensure the home is not closed."
Families fear the stress of a move to another home could be catastrophic for their loved ones.
In a statement the CQC said it would be "inappropriate to comment on the tribunal decision until the publication date" of their report from the meeting.
The home's latest inspection by the health watchdog in April recorded six repeated breaches of regulations.
Failings included medicines stored in unsafe conditions, staffing issues and the failure to follow every resident's care plan.
However, inspectors found the home matched the regulations with respect to privacy and dignity.