Petition over Highcliffe TV show beach huts is delivered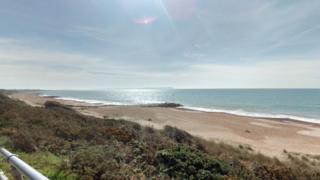 A petition opposing plans to build 12 beach huts on the Dorset coast as part of a TV competition has been handed in by campaigners.
Channel 4's George Clarke's Amazing Spaces is planning to build 12 huts, designed by viewers, at Highcliffe.
But Friends of Highcliffe Beaches and Cliffs claim the 4m (13ft) x 4m (13ft) huts would ruin the natural coastline.
Christchurch Borough Council said the structures would "work with the landscape rather than against it".
The authority is pledging £96,000 towards the project.
The group of objectors said it was "an illusion" to think each hut between Highcliffe Castle and the Cliffhanger Cafe would come up to a "fitting standard".
The nearest conventional beach huts are about 1.5km away, near Christchurch Windsurfing Club.
They also believe the structures, which could be used as overnight accommodation, "will not stand a chance in the harsh conditions on the cliff face".
An online petition against the plans, which raised over 1,100 signatures, was handed in to Christchurch Borough Council earlier.
The authority said it would be considered at a full council meeting on 12 July before a final decision is made.
Natural England (NE) said the area had been designated as a site of special scientific interest (SSSI) for its geological interest.
It said: "There are very specific circumstances to this section of coast that mean that, if sited carefully, impact on the geological interest could be avoided."
NE confirmed it was in discussions with the council over the plans.