Christchurch 'greenbelt school' review refused by government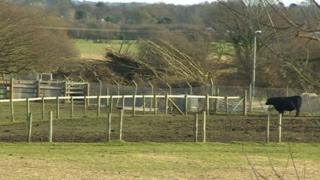 A new 420-pupil primary school is set to be built on greenbelt land in Dorset after the government refused to review a planning decision by the council.
The Department for Communities and Local Government said it would not call in plans to build the £7m school in Marsh Lane, Christchurch.
Local MP Chris Chope called the decision a "kick in the teeth".
Dorset County Council said it meant a "secure future" for primary education in the town.
Greenbelt 'sacrosanct'
The council approved plans for a new school in February, admitting building on greenbelt land was a "departure" from council policy justified by the urgent need for school places.
Over-subscription of primary school places has resulted in 90 pupils being housed in mobile classrooms on the Twynham Secondary School site.
Mr Chope, who supported building a school on a Brownfield site in Christchurch, has said the decision gave private developers the opportunity to "undermine" the greenbelt.
He added: "It is a kick in the teeth to all those who believe that the green belt is sacrosanct."
The council said it expects the first pupils to move into the new school in September 2017.