Police shut new station in Bournemouth after flood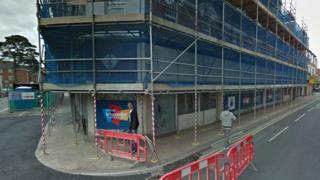 A new Dorset police station has closed after a large water leak damaged the building and computer equipment.
Patrol officers, who moved into the property in November, are currently commuting from Christchurch police station nearly three miles (5km) away.
Dorset police said the cause of the leak on 6 May was building work in private premises above the station.
The property, shared with council workers, was converted by the local authority at a cost of more than £1m.
Last year the council said the work to bring the Victorian building up to date was £350,000 over-budget, because of structural issues, asbestos and the increased cost of providing mechanical and electrical services.
The Boscombe Hub opened several months late in November, housing the police station, neighbourhood wardens, a youth services drop-in centre and a local area regeneration team.
Bournemouth Neighbourhood Chief Inspector Mike Claxton, said: "Some officers have been taking the train from Christchurch to Pokesdown... which has allowed them to provide a continued presence in Boscombe whilst the Hub is unavailable."