Bournemouth landslip: Wrecked lift carriages removed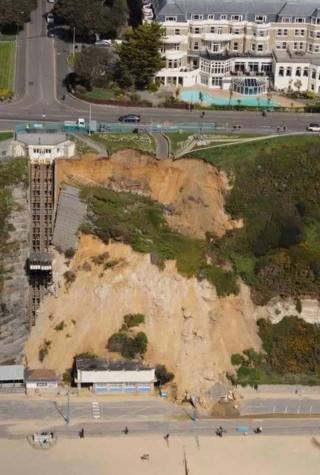 Engineers have removed two cliff railway carriages from the site of a landslide in Bournemouth.
The pair of Edwardian funicular carriages were partially covered in debris after the major landslip.
The fall on 24 April saw a stretch of the 30m-high (100ft) cliff collapse, taking vegetation, fencing and benches with it.
The lift carriages were raised to the top of the cliff by a crane earlier.
The collapse, which saw tonnes of loose material tumble down the cliff, destroyed a block of toilets on the promenade.
Residents and visitors are being warned to heed the barriers and cordons in place amid the continuing works on the cliff.
East Cliff Drive remains closed to motorists.
Bournemouth Borough Council's Larry Austin said the works were on schedule with the site expected to be cleared "within the next couple of weeks ahead of the Wheels Festival".
The authority said a "close and detailed" inspection of the area of cliff from both the top and bottom had shown no further movement has occurred since the slip.