Luxury hotel plan approved for Poole Harbour site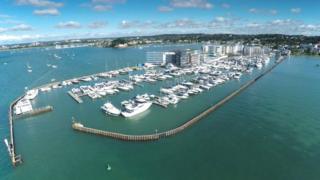 Plans for a high-rise hotel and block of flats overlooking Poole Harbour have been approved.
The £100m development at Salterns Marina would include two new buildings on an existing 200m (650ft) quay.
The scheme was met with more than 100 objections from residents who said an "unsightly wall" of structures would ruin views.
Protestors jeered at members of Poole Borough Council's planning committee as they gave the scheme the green light.
'Dismayed'
People had complained about increased traffic as well as the height of the proposed seven-storey hotel and six-storey block of luxury flats.
One residents' association said it was "dismayed" at the "over dominant and overbearing development".
Richard Carr, acting on behalf of applicants Salterns Marina Ltd, said the scheme would bring with it "world-class facilities".
He said the plan would include a redeveloped marina and a top-floor hotel restaurant with commanding views of the harbour and Brownsea Island.
Mr Carr said the company was in advanced discussions with developers about the construction work.