Major hospital changes in Dorset move forward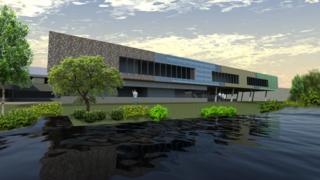 Plans to reorganise Dorset's three major hospitals have been formally recommended by NHS bosses.
A major trauma centre would move from Poole to Bournemouth under changes put forward by NHS Dorset Clinical Commissioning Group (CCG).
Protestors outside the meeting voiced fears that some maternity and children's services could also be relocated from Dorchester and Poole.
A public consultation will be held before a final decision, due in 2017.
Under the plans, the number of beds at Bournemouth would increase from 670 to 1,100; there would be a new maternity and paediatrics department and 2,000 extra staff but 45,000 routine operations a year would move from Bournemouth to Poole.
Poole Hospital and Dorset County Hospital, in Dorchester, would retain round-the-clock A&E capacity but major cases would go to Bournemouth.
NHS Dorset said changes were needed to cope with an ageing population and a deficit forecast to be £150m by 2021.
Protestors who gathered outside the meeting in Dorchester voiced fears that Kingfisher children's ward and the special care baby unit at Dorset County Hospital in Dorchester would be closed.
Naomi Patterson, who attended the demonstration, said: "The west side of the county hasn't been taken into any consideration at all...we will have to travel 30 miles to receive special care."
More than 16,000 people have signed an online petition calling for Poole's A&E and maternity departments to remain as they are.
The plans will go before NHS England with a final decision expected next year.