Unlawful Shaftesbury war memorial relocated to cemetery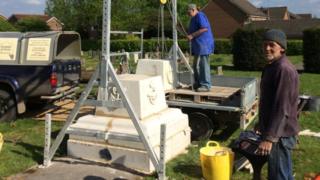 An "illegal" war memorial erected near the ruins of an ancient abbey has been relocated after more than two years of negotiations.
The 6ft-high (1.8m) Rifles Monument was placed in Park Walk, near Shaftesbury Abbey, Dorset, by the town council.
It was later removed after English Heritage said it was put up within the grounds of the scheduled ancient monument without consent.
The memorial has now been moved to nearby Mampitts Cemetery.
After it was removed from Park Walk, the 4-tonne Portland stone memorial had been in storage for three years - paid for by the town council.
The relocation and future maintenance costs of the monument are being met by a newly created "organising committee", made up of various organisations including local churches, The Rifles Association, British Legion and the council, the authority said.
Stonemason Harry Jonas, who built the monument, said: "I'm really proud that it's there and hopefully it'll stay there for a long time.
"It's a great setting - in front of the Commonwealth memorials - and a really good conclusion for the monument."
It features the cap badges of regiments, including the Devonshire and Dorset, which later merged into The Rifles.