Travel concern over planned maternity centre in Dorset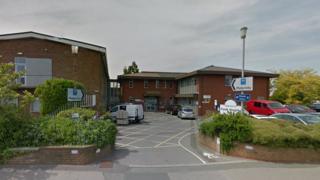 Pregnant women could face "horrendous" journeys to a planned new maternity unit, campaigners have claimed.
NHS bosses are considering closing St Mary's Maternity Hospital in Poole and building a new centre in Bournemouth.
Poole resident Sean Perrin, who started an online petition to stop the changes, said women could face 40-minute car journeys to give birth.
NHS Dorset Clinical Commissioning Group (CCG) said maternity services needed to change to remain safe.
The group published its plans for maternity care as part of a reorganisation of hospital services announced on Monday.
In April, a report by the Royal College of Paediatrics and Child Health recommended: "Poole and Bournemouth hospitals should integrate their maternity service, to offer safe, consistent care across east Dorset".
More than 14,000 people have signed two online petitions against the proposals.
Mr Perrin said: "Poole to Bournemouth is horrendous... all you hear of is traffic delays. If you're lucky 15 minutes. If you're unlucky 40 minutes."
Sophie W, who signed one of the petitions, said: "I am a pregnant women, due in September. If my local maternity is moved to Bournemouth, I will not be able to make appointments. My partner will not be able to make short trips to and from with our young child when the baby is born."
Another signatory, Phil L, said: "I can't even begin to imagine the extra stress it would have on the baby and mother if we had to drive all the way over to Bournemouth."
Dorset CCG will consider its plans for the two hospitals, which are 5 miles (8km) apart, at a meeting on 18 May.
A final decision is expected in 2017.