Royal Bournemouth Hospital's A&E 'to be Dorset's main one'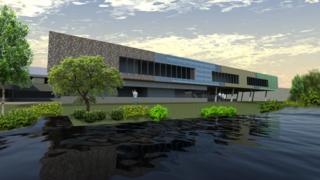 Royal Bournemouth Hospital has been recommended as the main emergency hospital for Dorset.
Poole Hospital had also been in the running to be named the preferred A&E site, but is now set to specialise in planned operations.
NHS Dorset Clinical Commissioning Group (CCG) said its reorganisation of Dorset hospitals would "save lives".
The group will consider the recommendation at a meeting on 18 May before a final decision next year.
Under the plans, the number of beds at Bournemouth would increase from 670 to 1,100, there would be a new maternity and paediatrics department and 2,000 extra staff but 45,000 routine operations a year would move from Bournemouth to Poole.
The Dorset CCG, said the choice of Bournemouth would be more than £40m cheaper than the alternative option of Poole.
Chief officer Tim Goodson said the Royal Bournemouth Hospital was suitable for expansion and in a better location.
He said: "We're looking to have one network of consultants across all three of our hospitals. We think the outcome of that will be better for patients and, ultimately, this will save lives.
"If we do nothing, we forecast that by 2021 we will be £150m in deficit on a recurrent basis, so we are looking to save money as part of this."
If approved, the changes could be implemented within five years.
NHS Dorset Clinical Commissioning Group (CCG) set out its plans to reorganise services last year.
It said changes were needed as the number of people living in Dorset was set to rise by more than 500,000 by 2020, with 70% aged over 70.
Poole and Dorset County Hospital, in Dorchester, would retain round-the-clock A&E capacity but major cases would go to Bournemouth.