Poole bridge set for major overhaul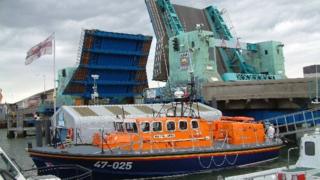 The redevelopment of an 89-year-old bridge is part of a £23.3m project around the Port of Poole.
The schemes centre around Poole Bridge, Gravel Hill, the Dunyeats junction, and the town side of the Backwater Channel.
Works begin in May and will continue in some areas until 2018.
Head of transport Julian McLaughlin confirmed the closure of Gravel Hill and Poole Bridge would cause "significant disruption to road users".
The major overhaul of the bridge, which links Poole to Hamworthy, starts in September and will take about nine months to complete.
The authority said without strengthening its structure, it would increasingly break down and prove more costly in the future.
New approach spans to the bridge and a wider carriageway with a cycle path will also be built.
Works at Dunyeats junction begin next month and end in July, and the Gravel Hill scheme begins in July and ends in January.
The majority of the work to access to the port itself will take place in 2017 and 2018, including the redevelopment of Hunger Hill.
Gordon Page, chairman of Dorset Local Enterprise Partnership, which unveiled the project, said the investment would "safeguard important road and bridge routes".
---
Poole Bridge trivia
Opened in March 1927
Alderman Herbert S Carter, then mayor of Poole, described it as a "bridge for all time"
A full-time operator lived in the bridge house until 1960
Operation was moved to a control room at the Civic Centre in 2001
Opened about 400,000 times in its lifetime
About 20,000 vehicles use Poole Bridge and the Twin Sails bridge, which lift every half hour, to cross the harbour each day
Source: Poole Museum
---