Dorset council bosses' pay rise plans on hold after protests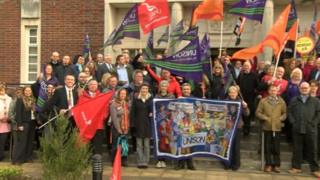 Plans to give senior managers at Dorset County Council pay rises have been put on hold following protests.
Trade unions criticised the plans for increases of about £6,000 per year for 15 departmental heads.
After protests were held at a council meeting in Dorchester, the authority said it would refer the decision back to its staffing committee.
Council leader Robert Gould insisted the pay rises were "the right thing to do".
More than 100 protesters gathered ahead of the council meeting.
Unions criticised the proposals, saying most council workers had not had a pay rise in the last five years.
'Competitive situation'
Craig Martin of Unison said: "Hardly any of the people I represent will get anything close to what these people are going to be entitled to.
"There has been no consultation with trade unions and the transparency of this has been shocking."
Speaking before the meeting, Mr Gould had said the pay rises were "affordable and proportionate" and reflected changes in the management roles in recent years.
"We have 50% fewer senior managers and they are taking on completely different roles. We have to give people the right level of pay for the responsibilities they are carrying out.
"We are in a competitive situation and we'll lose staff if we're unable to attract the calibre we need at those senior levels if we don't pay comparable amounts."