Portland Museum appeal over thatch roof collapse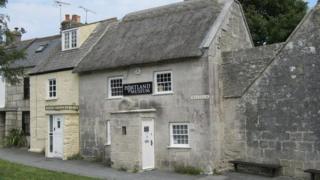 A Dorset museum founded by birth control pioneer Marie Stopes has launched an appeal after parts of its thatched roof began to collapse.
Staff at Portland Museum say £15,000 is needed to re-thatch the roof of its cottage in Wakeham.
The museum, established by Marie Stopes in the 1930s, houses displays about Portland's quarries, prisons and maritime history.
Curator David Carter said the thatched roof was in a "very poor state".
The roof on the two-storey building is collapsing and patchwork repairs have so far failed to prevent signs of damp in internal walls.
Mr Carter said: "We need to think what we need for long term future - but we can't wait to do the roof."
Marie Stopes founded the museum after moving to the Isle of Portland in the 1920s and becoming fascinated by its geology.