Tide submerges Land Rover stuck in sand at Poole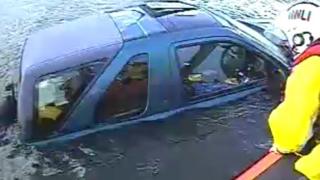 A Land Rover Freelander was submerged by the sea after it got stuck in sand at a quay in Dorset, police said.
The Poole owner of the blue 4x4 vehicle drove it onto sand near Moriconium Quay, Poole, but was unable to move it before the tide came in.
Officers and Poole inshore lifeboat attended the scene, off Lake Avenue, at about 16:45 BST on Sunday.
No one was trapped and no one was injured, the force said.
The owner arranged the recovery of the vehicle.