Christchurch beach hut competition plans 'could lead to Darth Vader designs'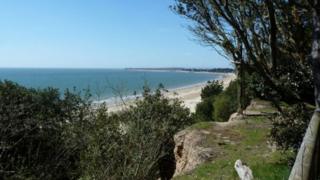 Campaigners fear plans to build new beach huts in their town as part of a TV competition could lead to "Darth Vader or Barbie doll-themed designs".
The 12 huts would be built in Christchurch, Dorset, to provide overnight accommodation.
More than 250 people have signed a petition against the plans, claiming the huts would spoil the coastline.
But Christchurch Borough Council said the huts would "enhance" the landscape.
The authority said it would pledge £96,000 towards building the huts, between Highcliffe Castle and the Cliffhanger Cafe.
The plans are set to feature on Channel 4 show George Clarke's Amazing Spaces, which follows people who create innovative and unusual places to live and work.
Resident Josephine Pollen said: "They want iconic and unique designs so we could end up with anything like Darth Vader or pink Barbie huts."
She added: "It's going to ruin the beautiful natural landscape here."
Julia Graham, who has signed the petition, described the plans as an "unsuitable and ruinous misuse of a rare natural beach".
'Wild and wacky'
Other people said the huts would "destroy" the view.
However, Matt Reeks, from Christchurch Borough Council which will have the final say on the plans, defended the plans.
He said: "It's a matter of combining the wild and wacky, creative and innovative with suitable, stylish units which work with the landscape rather than against it.
"We're not out to spoil this area of cliff, merely enhance it and improve it."