Bus roof ripped off in Bournemouth bridge crash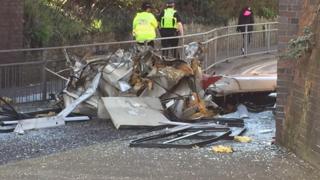 The roof of a double decker bus carrying language students from Thailand was sliced off while going under a railway bridge in Bournemouth.
Two 13-year old girls received minor injuries as the roof came off when the bus struck the bridge and travelled a further 30m (100ft) with an open top.
Dorset Police said it was investigating following the crash in Clingan Road shortly before 08:30 BST.
Cavendish School of English said the bus driver had been suspended.
Sgt Ben Pope said: "The students were very lucky. I'd like to thank the local school for their assistance in looking after the students in their hall that were aboard the bus so they could be triaged by the ambulance service.
"The matter will be fully investigated."
Nathan Santangelo-Barber, from the school, said its staff were "absolutely devastated".
"Our first priority at this time, is to ensure the safety and welfare of the children, all of whom are now back at Cavendish School and in class ... thankfully no one was seriously hurt," he said.
He said the driver of the bus, operated by its sister company Cavendish Liner, had been suspended pending further investigations.
---
At the scene: BBC Radio Solent reporter Emily Hudson
The bus kept going at least 30 metres before coming to a halt and is now surrounded by a large cordon.
The complete top of the bus has come off, with the wreckage lying in the road.
It appears the passengers had the sense to duck - it is a miracle no-one was more seriously hurt.
A lot of children in the junior school saw what happened and there are a lot of distressed faces in the playground.
---
The bus was carrying 19 Thai students as well as two school staff. Four people were on the top deck at the time of the impact.
They were taken into nearby Stourfield Junior School where they were given first aid by staff.
Head teacher Emma Rawson called it a "very unusual start to our school day and one which I hope will never be repeated".
She added: "There has been a major clean-up operation going on in the road outside school all day.
"I want to put on record how immensely proud I am of our staff, who all swung seamlessly into action this morning, as if we had a plan in place for this sort of incident - and of our children, who were so sensible and responsible in the face of the disruption to the start of their school day."
Eye witness Ann Husher, who lives nearby, said: "Normally big lorries turn in the school gates and go back or reverse.
"Before I had a chance to say 'you can't go under there', it went under the bridge and sliced the top off. I was shaking - it was really hairy."
School lollipop lady Georgia Knight said it was the worst incident she had seen in more than 20 years.
"Looking at the bus, how the children weren't more injured I don't know. The seats upstairs have gone.
"If any of those kids had been standing up, you dread to think. It could have been a lot worse," she added.
A South Western Ambulance spokesman said one girl was treated for a hand injury and another suffered minor head and facial injuries.
Clingan Road was closed between Stourvale and Carlyle Road.
The bridge was assessed by Network Rail following the crash and rail services between Brockenhurst and Bournemouth were restricted for several hours.