Swanage lifeboat volunteer retires after nearly four decades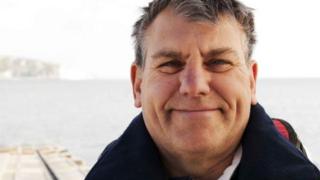 An RNLI volunteer is hanging up his lifejacket after 39 years as his station welcomes a new £2.1m lifeboat.
Coxswain Martin Steeden joined the Swanage RNLI in 1977, but said it was "the right time" to go as the station completes a £3.5m redevelopment.
The new Shannon-class lifeboat will replace Swanage's Mersey vessel, that has been in service for about 25 years.
The project was funded by two "generous benefactors" and fundraising projects.
'Part of RNLI history'
Mr Steeden began as a crew member, before progressing to mechanic and finally becoming coxswain in 2000.
He said: "A lot has changed in my time on the lifeboat, and during my time as coxswain, and I know that this is the right time for me to move on.
"With the arrival of the Shannon and the new lifeboat station, it's fitting that there should be a new generation of coxswains and crew who will take their turn as part of the station's history."
As well as a new lifeboat, the Swanage boathouse is undergoing a £3.5m redevelopment, that will include new training facilities and offices.
Mr Steeden will leave the lifeboat charity at the end of February, when the new vessel officially goes into service.