Bournemouth 'needs new homelessness plan'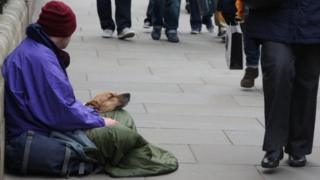 Bournemouth's councillors have been told a new strategy is needed to deal with a sharp increase in homelessness in the town.
The number of households in temporary accommodation has doubled since September from 24 to 48, according to a council report.
It said an annual count found there were 47 people sleeping rough in 2015, more than double the number in 2014.
Councillors are meeting later to discuss the report's findings.
Hannah Gousy, senior policy officer at homelessness charity Crisis, said benefit cuts and rising rents were a key reason for the increase and a reduction in funding for support services was adding to the problem.
Lorraine Mealings, head of housing at Bournemouth Borough Council, said: "Every case is complex and the reasons for people ending up in that scenario are different.
"Bournemouth is a lovely place to be and about 50% of the rough sleeper community are from Bournemouth and about 50% aren't.
"We do prioritise people who have a local connection for housing options but the rough sleeper team liaise with every single person that's out there and people from out of the area are actively re-engaged with the area they come from."
Bournemouth Borough Council faced criticism in December for playing loud music including bagpipes and Alvin and the Chipmunks at its travel interchange to deter rough sleepers.