Bournemouth stabbing: Man attacked on Spitfire Alley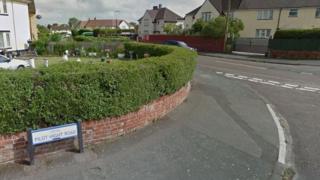 A man in his 20s is recovering in hospital after he was stabbed in the back in Bournemouth.
Dorset Police said the victim was approached by a man on a footpath, known as Spitfire Alley, between Moore Avenue and Pilot Hight Road.
He was taken to Southampton General Hospital where he had surgery on his back and is now in a stable condition.
Police said the attack happened at about 22:30 BST on 31 March and a second man suffered a fractured ankle.
The suspect is described as a man with dark curly hair, about 6ft 1in tall, and who was wearing a dark hooded top and jeans.
Detective Constable Sara Watts, of Bournemouth CID, said she would like to speak to the driver of a dark-coloured BMW that was seen at the scene of the assault.