Melbury Abbas landslip road to reopen 'in next few weeks'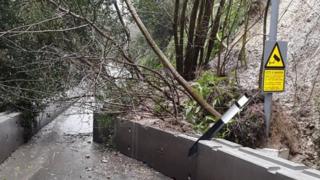 A road shut which was shut after a severe landslip should be reopened "in the next few weeks", Dorset County Council has said.
Soil and debris fell from the steep slopes at Dinah's Hollow onto the C13 at Melbury Abbas on 9 March.
Landowners are due to begin clearing the road after it was surveyed for further slips by specialist engineers.
The authority said the collapse had damaged concrete barriers recently installed to stabilise the slopes.
Councillor Peter Finney, the council's cabinet member for environment, said the landslip appeared to have been caused by "water run-off from land nearby".
It reopened in July with CCTV cameras, a reduced width and temporary traffic lights in place.
A two-mile (3km) diversion, via the A350 Blandford to Shaftesbury road, is in place while the road remains closed.