Bournemouth A338 works: Contraflow remains for Easter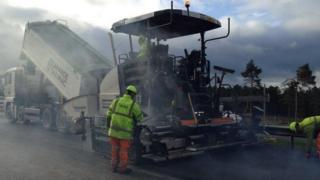 Motorists are being warned to expect delays at Easter as diversions set up while the main route into Bournemouth is rebuilt will remain in place.
A contraflow system and a reduced speed limit will affect the A338 Spur Road over the two-week school holidays.
Dorset County Council said suspending the project for the break would "cost around four weeks of time, and would mean us finishing at the end of June".
The authority has advised motorists to "plan ahead".
The £22m project, which started in September, is due to finish at the end of May.
It involves a re-development of the route between the Ashley Heath Roundabout and Blackwater Junction.