Cigarette packets wash up on Dorset's Chesil Beach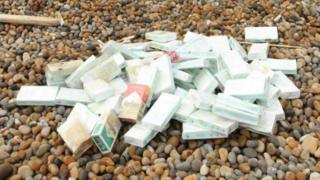 Hundreds of packets of cigarettes have washed up on a Dorset beach.
The packets have appeared along a four-mile stretch of Chesil Beach, Portland, since Saturday, according to local conservationist and wildlife photographer Steve Trewhella.
In 2014, thousands of packets appeared on Chesil after a cargo ship shed about 500 containers in the Bay of Biscay.
However, Mr Trewhella believes the recent "fresh-looking" discovery could be from a different ship.
The Maritime and Coastguard Agency (MCA) said there had been no reports of any recent spills, but said Wyke Coastguard Rescue Team was investigating the area where the packets were found.
A spokesman for Dorset County Council's coast forum said the packets looked "very similar" and had the same writing on the safety labels as those washed up on Chesil in 2014.
"It is a possibility that a fresh load may have been released from a container lost in 2014," he said.
But added it was "very difficult to know for sure" if they were from the same spill.
The beach has been covered in large amounts of debris including dead sea birds, plastics, wooden pallets and netting following a spate of recent storms.
Mr Trewhella said he does not believe the Asian-branded cigarette packs found over the weekend are from the same ship as those washed up in 2014.
"They are in good condition - the older ones are all soggy and brown from where the tobacco has leeched out," he said.
"These seem quite fresh and some have been washing up on the strand line with the seaweed."
Mr Trewhella also discovered a black Lego dragon which he believes could have come from a container filled with millions of Lego pieces which fell into the sea off Cornwall in 1997.
All wreck material found in the UK has to be reported to the MCA's Receiver of Wreck.