Runaway tanker in Dorset crashes into two cars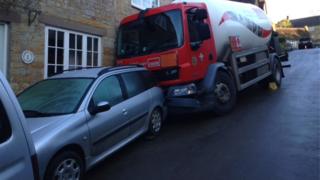 A runaway gas tanker has crashed into two cars and come to a rest against a house after rolling down a hill in Dorset.
Police said the stationary tanker had been parked in School Hill in Powerstock, near Bridport, before it came free at about 07:00 GMT.
No-one was injured but the ambulance service attended as a precaution.
The cars sustained minor damage while the house suffered a "glancing blow", police said.
Will Miller, who lives at the house, said: "I woke up to a loud bang. At first I thought it was an explosion because of how loud it was.
"I looked through the window and saw a large cylinder tanker. My immediate thought was that it was going to explode because I smelt burning, so I ducked and legged it out the room."
Police said there was no-one in the tanker at the time but it is not clear how the vehicle started moving.
The road is expected to be closed for at least two hours.