Riley Blaker has tumour surgery designed to prolong life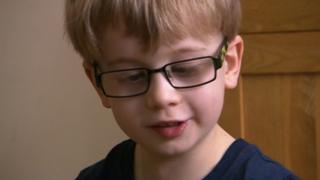 A five-year-old boy given months to live has undergone surgery that could help prolong his life after a successful fundraising appeal.
Riley Blaker, from Weymouth, has an inoperable brain tumour, and his parents launched an appeal to fund treatment not available on the NHS.
His mother, Adele, said a 10-hour operation to allow chemotherapy drugs to be injected directly into his tumour had been a success.
She said she was "very relieved".
The treatment - convection-enhanced delivery - is being carried out by Bristol surgeon Steven Gill and involves inserting tiny tubes to deliver chemotherapy drugs to the tumour.
'Little fighter'
The £50,000 cost was donated by well-wishers.
In a message posted on Facebook on Monday evening, Mrs Blaker said: "We are very relieved to say Riley's operation went well.
"After nearly 10 hours, his surgeon was happy and everything is where it should be ready for Riley to start chemotherapy infusions as soon as he is well enough.
"He is very sleepy and sore but has shown us once again just what a little fighter he is."