Rare 17th Century map of Dorset estate restored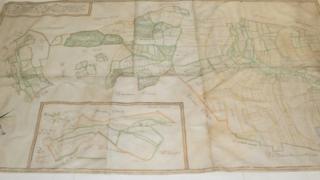 A rare parchment map showing land ownership in 17th Century eastern Dorset has been restored.
The Wimborne St Giles estate map, which dates from 1659, was cleaned and restored by experts the the Dorset History Centre.
The hand-drawn, colour map, owned by Lord Shaftesbury, shows field systems and agricultural features.
Conservator Jacky Barnard said the work which was carried out over several weeks was "gratifyingly demanding"..
The animal skin map - one of relatively few maps from this period have survived - is made up of six individual parchment sheets which had to be realigned correctly.
Ms Barnard said: "Parchment is particularly challenging to work with as, exposed to high humidity, it tries to return to its original animal shape
"It's wonderful to see this beautiful map back in one piece."
Lord Shaftesbury said: "It's immensely satisfying to see these objects brought back to life and preserved so that future generations can enjoy them."