Dorchester Prison development: Homes plan unveiled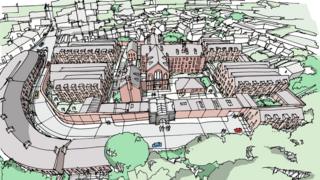 Plans to turn Dorchester Prison into 189 homes and a museum have been unveiled.
Owner and developer City & Country has applied to redevelop the 1.95 hectare (4.8 acre) site between Glyde Path Road and Friary Hill.
It wants to create 44 one-bedroom, 115 two-bedroom and 30 three-bedroom homes, with one parking space for each property.
The prison, which closed in 2013, was sold in 2015.
According to the plans, the historic buildings - including the cells - would be retained and converted to one and two-bedroom apartments with the central atrium used as a communal entrance.
Three-storey apartment blocks will be built in the style of the existing buildings and a crescent-shaped terrace of three-bedroom houses with subterranean parking is planned for the entrance road.
The listed Gatehouse would be converted into a museum showing the history of the prison site.
Plans for a cafe in the entrance road on North Square have been scrapped.
The prison sits on the site of a Norman Castle, built in the early 11th Century, and there is evidence of a fort from the Civil War period.
It was the site of a number of public executions, including that of Martha Brown, the last woman to be publicly hanged in Dorset in 1856.
The Dorset History Centre said newspapers from the time showed she was buried in the prison graveyard.
The majority of the buildings date back to 1885.
West Dorset District Council is currently considering the application, which has gone on display at the prison site.